---
Unidentified Funny Objects 6, edited by Alex Shvartsman: Dear Joyce
Dear Joyce,
Last week a wizard abducted me and my best friend R. The wizard claims I'm the rightful heir to the Alabaster Throne, that my destiny is to kill King Mnabapt, to marry a princess, and to restore Riverell to prosperity, and that King Mnabapt has sent a bloodseeker to kill me.
At least the bloodseeker part is true—I saw it rip into Farmer J, R's dad. I don't know if R will ever get over that.
As for the rest?
I really, really do NOT want to marry a princess.
Sure, I'm an orphan and I always felt I was destined for greater things, but I thought maybe I'd go to college and become a financial adviser instead of a farmer. Turnips are boring.
What do you think? Have I found my destiny, or has it found me? What should I do?
Captured Homeless Orphan Seeks Explanatory Note

Dear CHOSEN,
You gloss over this part a little, so I feel the need to place this all in caps: YOU HAVE BEEN ABDUCTED...
---
Persistent Visions: Into a Bloody Susurrus
At first I thought he wanted me for my body, the man with a handlebar mustache in a red wool plush uniform, each button burnished with such care that he had to have secrets.
---
Once Upon a Time in the Weird West: From Ancient Grudge to New Mutiny
Once upon a time in the weird west, somewhere outside Wilson Creek, two houses stood divided, not only by a feud but also by the mining claim that'd started the whole sorry business in the first place. James Caplin could hate a Montgomery as well as anyone, but that didn't mean he wanted to head back to Wilson Creek and spend the rest of his life arguing over the played-out Seanneri Chasm's precious illudine.

Buy at Dreamspinner | Amazon
---
Terraform: Regenesis
Beyond a small dark door, in the magical-genomic laboratory of Irindeh University of Subtle Mechanics, Nenadi's mistake waited. Nenadi guided Anahah, her partner-in-all-things, past the scarred worktops and equipment cabinets, all dyed crimson by the light that filtered through an afternoon dust blizzard. Golden sensory circuits glinted in Anahah's terracotta skin.
---
Highfell Grimoires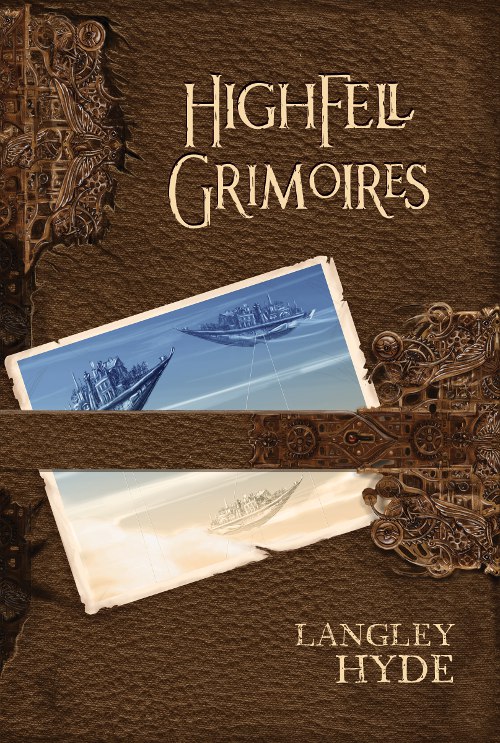 Born to privilege, gifted in languages and spells, Neil Franklin has planned his brilliant future--from academic accolades to a proper marriage--and is intent upon upholding his family name and honor. The sudden death of his parents shatters all of that, leaving Neil and his younger sister beggared and orphaned.
When Neil's estranged uncle offers him a bargain that will save him and his sister from debtor's prison or exile, Neil eagerly agrees. Handing over the family grimoire as collateral for their debt, Neil devotes himself to working as a teacher for wayward youths at a charity school high in the clouds.
But Highfell Hall is not the charity Neil imagines it to be and the young men there aren't training for the dull lives of city clerks. Amidst the roaring engines and within the icy stone halls, machinations and curious devices are at work. And one man, the rough and enigmatic Leofa, holds the key to the desire that Neil has fled from all his life and a magic as dangerous as treason.
EXCERPT (HTML) | Purchase at Blind Eye Books | Purchase at Weightless Books (eBook) | Amazon.com | Barnes & Noble
---
Want to hear about Highfell Grimoires before reading it? It was named a best book of 2014 in SF/Fantasy/Horror.
This is a gripping, beautifully written, and thoroughly enjoyable example of steampunk: rife with class injustice, intrigue, and mislaid identities; blending the best parts of the modern thriller and the Victorian sensation novel; and full of endearing, believable characters.
A gripping homage to sensation fiction, this is a thrilling and deftly written debut that seamlessly mixes romance and adventure; easily among the most enjoyable steampunk novels I've read.

-- Amal El-Mohtar at NPR
Or, you can check out what Dear Author has to say here.